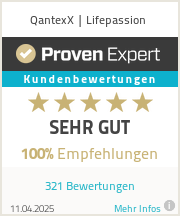 ---
Eye-opening, goal-oriented, direct and very personal. Amina Meineker - as pathetic as it may sound - enabled me to change my life. A really great experience with amazing results! Thank you very much, Amina!
In four years of therapy training I did not get as close to myself as I did on the Lifepassion Compass on the first day.
Amina has accompanied me through a crucial, transformative phase of my life, through which I went fearlessly, courageously, positively and optimistically and not only embraced my new world, but truly created it.  I am very happy and feel like I have arrived. It could have been extremely difficult, with Amina it was easy. And just 12 months ago, I would have never thought this is possible.
For me, the Lifepassion Compass was the door opener to my new, happy life. So many new opportunities and potentials open up to me and everything is suddenly much easier.
The Lifepassion Compass is a logical and coherent answer to all questions of life, the world and humanity. More, please!
I drank alcohol excessively. In working with Lifepassion I received the gift to start again. Alcohol is no longer an option for me.
The Lifepassion Compass gave me far-reaching insights, made me feel a close connection, freed me from deep-seated, old baggage and brought peace, lightness and confidence to my life. I am infinitely grateful for that.
Clemens, I'm so happy that you helped me to let go of this, whatever , it was, sad or bad thing . Now I am much lighter, more relaxed and happier. It's just awesome! You helped me to become a better version of me. Thank you!
The Lifepassion Compass is didactically masterful.
Dear Clemens, I can breathe again and my heart is no longer heavy. Whatever happened in our session, I want to thank you for it. It was really an incredible experience.
Registering for the Lifepassion Compass was one of the BEST decisions of my life. Thank you!
You showed me not only how I live more powerfully, but also how I make the world a better place. Thanks for that.
I am very excited how this one session could make a big difference. It helped me a lot. I highly recommend it to everyone!
I was diagnosed with Hashimoto's thyroiditis (autoimmune thyroid disease). The "feeling of lump" in the throat already dissolved during the 30-minute session. During the regular blood test that followed a few weeks later, the endocrinologist informed me that no more antibodies were detectable. Several years have passed since then. My thyroid is completely unremarkable on ultrasound. The feeling of pressure in the throat has not returned. Thank you!!!
Hello Clemens, after years of painful problems with my back, I have been completely free of pain and discomfort since our sessions. Even the panic over the pain, which had also tormented me during the healing process, is no longer there. Thank you very much!
Amina created a room full of magic, high energy and miracles. The seminar changed my life - I learned to let go of old blockages (hidden deep in my subconscious) and to create the future that I want. Thank you thank you thank you!!
The Lifepassion Compass changed my life and made me who I really am; gave me security, calmness, perspective and connectedness. Thank you!
The Lifepassion Compass was the best decision and investment of my life. The effects on my life are terrific / sensational and I have become the most important person in my life.  A Priceless experience. Thank you very much!!!